Other people are reading →
Top Malayalam magazines

Nana film weekly
Popular Malayalam film magazine featuring articles about new feature films, stories behind the movies, film industry news, reviews, music, celebrities, successful screen writers, and more. Nana film weekly was founded in 1972.

Ayurarogyam
Published by Kala Kaumudi Group Ayurarogyam is a health magazine published in Kerala, India. Ayurarogyam covering health, wellness, wellbeing, mental health, health tips, fitness, diet, weight loss, prevention, safe pregnancy tips, and more.

Fire Magazine
Malayalam news and entertainment magazine published in Kerala. The magazine published by Kalakaumudi group
Kalakaumudi (കലാകൗമുദി)
Leading Malayalam current affairs magazine published by Kaumudi publications. The magazine featuring politics, culture, environment, and much more.

Vanitha Magazine
Leading Malayalam women's magazine. Vanitha published by Malayala Manorama group. The magazine contains articles about family, fitness tips, latest news on favorite star, beauty & fashion, self-improvement, and more.

Manorama Weekly

Published by Manorama group contains articles about entertainments, Malayalam movies, beauty, fashion, and more. Manorama Group also published largest circulated Malayalam daily Malayalam Manorama.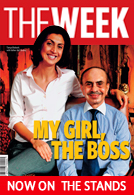 The Week
English-language magazine published by Malayala Manorama Publications from Kochi, Kerala. The magazine featuring entertainment, cinema, dance and music, movie reviews, film festivals, sports, tennis, cricket, football, stock market, career, jobs, economy, markets, crime, current events, lifestyles, people, politics, Malayalam heritage, and more.

Kanyaka
Leading women's magazine in Malayalam. The magazine contains articles about beauty, fashion, health care, recipes, and current affairs.

Thathamma
Malayalam kid's magazine covering learning, games, puzzles, children's fun topics, and more.

Info Kairali
Computer magazine in Malayalam published from Kuruppanthara, Kottayam (Dst), Kerala, India and featuring computer peripheral, mobile technology, internet, software, programming, games, laptops, networking, hardware, macs, PCs, and more.

SNEHITHA
Magazine in Malayalam published by Kalakaumudi.
See also
Telugu magazines
and
Kannada magazines
.